Miami to Bimini day cruise things to do
Have fun, or relax on the tropical island of Bimini, Bahamas
---

Things to do in Bimini, Bahamas
Scuba Diving, snorkeling, swim with the dolphins, Kayak tours and rental, Paddleboard tours and rental, Fishing
Enjoy the day in Bimini, Bahamas with exciting water sports.
Bimini was named one of the Top Ten Snorkel Destinations in the Caribbean by The Travel Channel. Crystal clear waters and the undersea wildlife are just two of the reasons, come with us and snorkel with the sharks. Visit and snorkel the famous Bimini shipwreck. You can do all this on the one day cruise to Bimini. That's right, one day cruise to a tropical island and be back to work the next day.
Swim with dolphins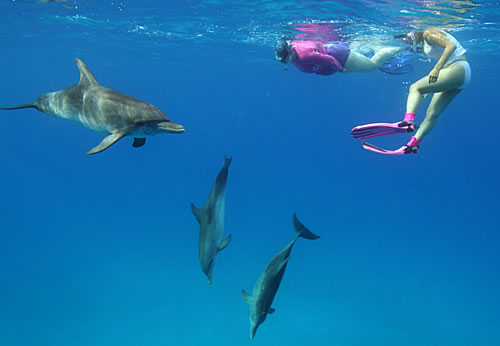 A sure bucket list item, swimming with the dolphins.
Dive with a legend at Neal Watson's Bimini Scuba Center, which offers Scuba Safaris, Water Sports, and Certification Courses. NOW at the Bimini Big Game Club and marina. Prices: Contact us or visit our website for information on packages and rates.
Location: Bimini Big Game Club Resort & Marina
Queen's Highway
Alice Town, North Bimini
---
Swim with sharks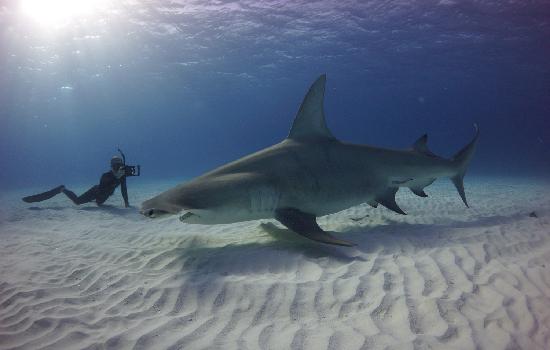 More thrills that any roller coaster ride, swim with sharks
Bimini Undersea has been conducting Dolphin Excursions since February 1996 and has documented an 80% success rate in finding dolphins in the wild. Guests can swim and interact with dolphins, as well as observe them from the boat, with absolutely outstanding photo and video opportunities. Excursions take place in the morning and afternoon and can be anywhere from three to four hours in length.
Location: Resorts World Bimini Resort & Marina
King's Highway
Bimini Bay, North Bimini
Bimini fishing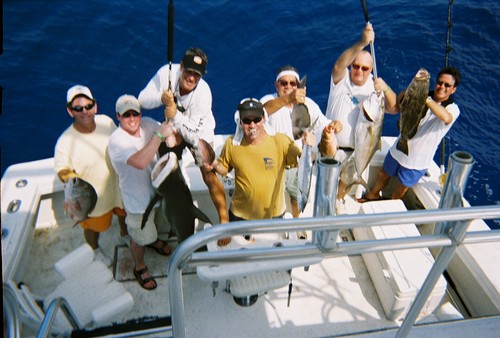 Enjoy some of the best fishing in the world while you are in Bimini, Bahamas
The Bahamas is well known for its deep sea or big game fishing, and the surrounding ocean is home to some huge predators, including marlin, tuna, and sharks. For anglers, there's no greater challenge than pitting yourself against one of these fish that can outweigh you by five times or more. Record catches are set here each year as fishermen from around the world cast their reels for the ultimate prize. See if you have what it takes to get into the record books by arranging your own fishing trip to The Bahamas.
Adventure, excitement, water sports, sport fishing, and world class diving – these are all unique elements found at the Bimini Big Game Club Resort & Marina.
---
Bimini shipwreck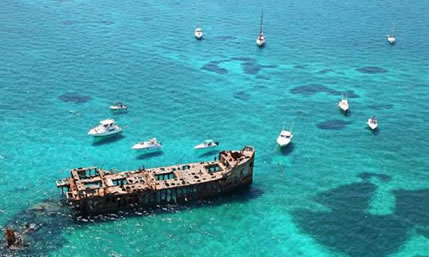 Best dive shipwreck on Bimini.
Because the ship was completed after the end of the war, it was sold for scrap to Carl Fisher, one of the developers of Miami Beach. He used it briefly as a casino and then for oil storage, before it was purchased in 1924 by Bruce Bethell, a former British war captain and a liquor merchant out of Nassau. Bethell moved the ship to Bimini and used it used as a floating warehouse to store and distribute his liquor supply during the Prohibition Era, earning him notoriety as 'Bimini's Rum King'. During a hurricane in 1926, the ship ran aground and was damaged substantially. It was then used as a bombing target for training by U.S. fighter planes during World War II. However, after a group of five torpedo bombers mysteriously disappeared while returning from a run to the Sapona on December 5, 1945, all target practice on the Sapona stopped immediately.